PRIVACY CONSENT BANNER
New Privacy Consent Banner Mandate for Dealers Aims to Safeguard Customer Data.
WHAT DO THESE PRIVACY LAWS REQUIRE?
Data collection & sharing must be Transparent, Consensual, Limited.

Data storage & sharing must be Limited, Accurate, Protected.
Operate transparently, Be Accountable, Apply these requirements to a website.
A recent ComplyNet study revealed
15% of dealer websites have a consent banner, however, 100% of them were passing data in front of consent.
Likely deceptive and likely a UDAAP violation under state and/or federal law
Privacy Consent Banner
Dealers Need to Have a Cookie Banner on their Website.
To Avoid Fines. Violations of similar laws in Europe have resulted in hefty fines. Example: France recently fined Google $169M and Facebook $67M for requiring too many clicks for users to opt out of cookies
Preference Management

Adherence to Industry Standards

Mitigation of Risks

User Experience Optimization
PRICING
Solutions are $300 each or $800 for all 3. Privacy Consent Banners are $100 per URL for current customers only.
10-Steps for Navigating Website Privacy Consent Banners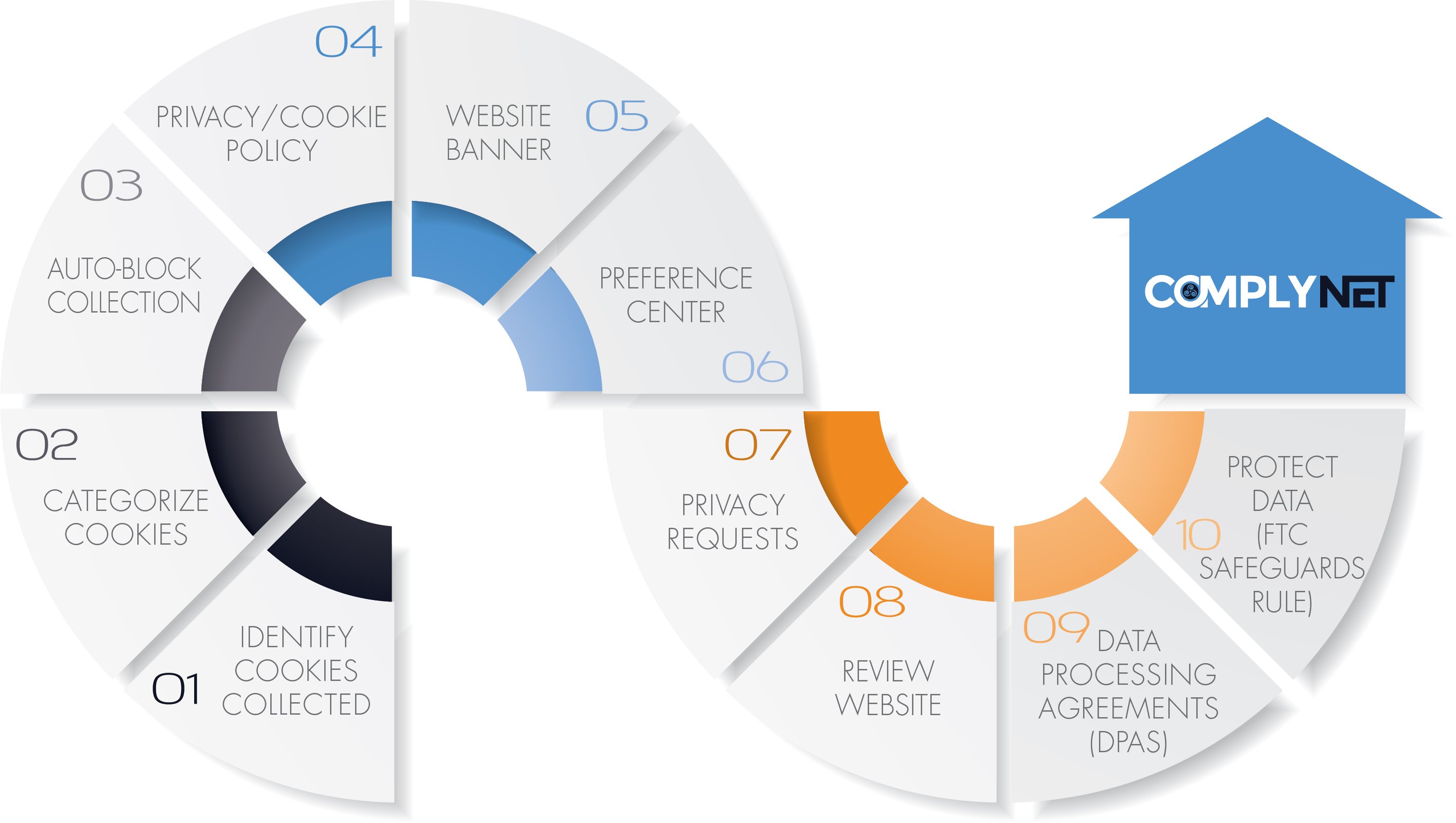 Step 1
Identify Cookies Collected
Scan your website periodically to identify:
Plug-Ins

Third Party Collecting Cookies



Step 2
Categorize Cookies
Essential Cookies

Performance and Functionality Cookies

Analytics and Customization Cookies

Advertising Cookies

Social Networking Cookies

Unclassified Cookies
Step 3
Auto-Block Collection
Auto-block all cookies until after consent is provided.
Step 4
Privacy/Cookie Policy
Create a website privacy policy and cookie policy that identifies the cookies by category and the 3rd party providers collecting cookies.

Modify the privacy policy/cookie policy as the website and providers change

.
Step 5
Website Banner
Create a custom banner that permits the acceptance and rejection of non-essential cookies.
Step 6
Preference Center
Allow consumers to change their consent options at any time with a Preference Center
Step 7
Privacy Requests
Enable consumers the ability to make privacy requests so that your designated individual may properly respond and manage requests.



Step 8
Review Website
Banner properly installed. No interference with accessibility tool.
Easy access to:
Privacy Policy/Cookie Policy;

Preference Center; and

Privacy Requests.
Step 9
Data Processing Agreements (DPAS)
DPAs typically address issues such as:
The specific purposes for which the personal data will be processed;

The categories of personal data that will be processed;

The duration of processing;

The geographic scope of processing;

The security measures that will be implemented to protect personal data;

The rights of individuals with respect to their personal data; and

The obligation of the parties to comply with applicable law.
Step 10
Protect Data (FTC Safeguards Rule)
Protect customer information/data collected by adhering to the FTC Safeguard Rule, which you are already required to follow.

Revised Rule took full effect on June 9, 2023 with violations of up to $50,120 per violation.
We're Here to Help
COMPLIANCE SUCCESS CONSULTANTS
Let us be your trusted advisor to guide you toward a culture of Complete Compliance.