PROTECTING CUSTOMER DATA IS CRITICAL
Our solution ensures that there are proper safeguards in place that keep consumers personal information safe and secure. Now with even more robust audit tools!
Industry Fact #1
91% OF ALL HACKING STARTS WITH PHISHING
Learn how we help identify, sequester, and mitigate risks of Phishing in your systems.
Privacy & Safeguards Program
OUR ROBUST SET OF TOOLS PROTECT VALUABLE DATA
Consumers have a right to know that their data is safe. We have developed a system for keeping it all straight.
Benefits Include:
ABLE Software Platform

Vendor Management - Now with AbleAuditor

Reduces Risk

Saves Time
LEARN MORE
PRICING
Solutions are $300 each or $800 for all 3. Start your compliance journey today!
10-Steps for Navigating FTC Safeguards Compliance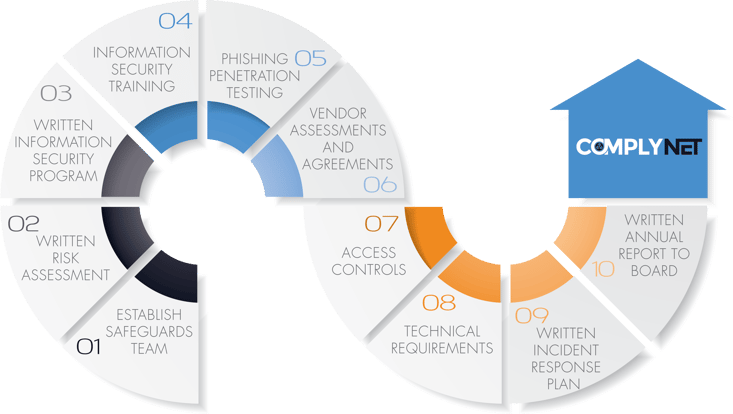 Step 1
Establish Safeguards Team
Compliance starts with pulling together the right team:

Designate a "Qualified Individual" to implement, oversee, and enforce the program
Identify an information technology (IT) resource to oversee technical aspects
Add a compliance expert to help guide the team

Establish key performance indicators (KPIs)
Meet quarterly
Track progress
Step 2
Written Risk Assessments
Your dealership must conduct a written risk assessment that will:

Map customer information (storage, access, and process)
Identify risks
Evaluate and categorize risks
Examine controls and safeguards
Mitigate identified risks
Periodically reexamine the controls and safeguards

Our platform automates the assessment process and documents the controls and safeguards
Step 3
Written Information Security Program
Your information security program must be comprehensive, based on your written risk assessment, and include:

Administrative safeguards

Technical safeguards

Physical safeguards

We help custom-tailor a written information security program for your organization
Step 4
Information Security Training
There are security awareness training requirements, and our platform provides your team with necessary trainings, such as:
Privacy and Safeguards

Privacy and Safeguards for the Shop

Document and Data Disposal

Information Security Awareness

Phishing Awareness

PCI
Step 5
Phishing Penetration Testing
Over 90% of all hacking starts with phishing, and we will test for your greatest risk by:
Conducting simulated phishing attacks of company-owned emails

Providing remedial phishing trainings for team members that:

Click on links

Download attachments

Provide credentials
Step 6
Vendor Assessments and Agreements
Each service provider with access to customer information must be:

Capable of appropriately safeguarding customer information

Assessed to confirm information security practices

Contractually obligated to appropriately safeguard customer information

Our platform automates:

Assessments
Agreements
Web Audits using our NEW AbleAuditor, an intelligent discovery audit tool
Step 7
Access Controls
Access to customer information must be monitored and limited, and change management procedures must be implemented
Our platform helps evaluate your controls and provides you with important polices and procedures, such as:

Data and Document Retention Policy
Data and Document Disposal Policy
Authorized Use Policy
Step 8
Technical Requirements
Through the assessment process, your information systems will be evaluated to ensure:
Multi-factor authentication (MFA) is enabled

Encryption is present

Continuous monitoring is occurring

Absent effective continuous monitoring:

Penetration testing (at least annually)

Vulnerability scanning (at least every 6 months)
Step 9
Written Incident Response Plan
Create a written incident response plan that will assist in:

Responding to a security incident
Recovering from a security incident
Remediating the security incident

Conducting a root cause analysis to help strengthen the information security program

We help custom-tailor a written information security program for your organization

span>

Step 10
Written Annual Report to Board (or Equivalent Body)
The Qualified Individual must create a report (at least annually) identifying overall compliance and material matters, such as:

Risks assessed, managed, and controlled
Service provider arrangements
Testing results
Security violations, events, and responses
Proposed changes to the information security program

We help prepare the annual status report for your Qualified Individual
We're Here To Help
Guided Compliance Consultants
Let us be your trusted advisor to guide you toward a culture of Complete Compliance.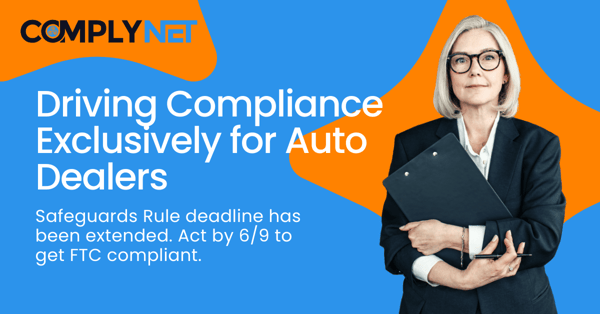 Countdown to Compliance
FTC Deadline has been extended!
You're in luck! There is still time to get your dealership compliant by 6.9.2023.